GRC News & Notes
1st Geology Proceedings Online
16 April 2010 - The Proceedings of the 1st Symposium on the Geology of The Bahamas is now available in PDF format. The 1st Geology Symposium was held in March of 1982. The Proceedings has long been out of print. This should be the first of many of the Proceedings volumes to become available online.
Dr. Gerace Honored
22 February 2009 - Don Gerace was awarded the prestigious Lady Sassoon Golden Heart Award on February 13, 2010 in honor of all his accomplishments in The Bahamas. For photos and more information go to: Golden Heart Award
Photography Contest
03 July 2009 - Our First Annual Photography Contest was a huge success with nearly 100 entries. The ten finalists were displayed and voted on during the Natural History Conference in June. The competition was fierce, and the winning photographs were separated by only a single vote. Thank you so much to everyone that participated.

For a look at all of the finalists and winners, please visit this page. And we've already begun accepting submissions for the Second Annual Photography Contest. Enter today!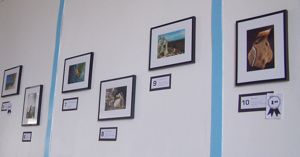 GRC Reference Search
26 February 2009 - The searchable database of literature related to San Salvador and the Bahamas in general continues to grow. To speed up the process of populating the database, you are invited to submit relevant references which are currently not included. Please head to our searchable reference page for more information.
Wet Lab
25 February 2009 - The Wet Lab at the GRC has undergone significant renovations. While we expect to make further improvements in the coming months, the images below will give you a good idea of what to expect.